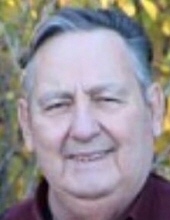 Obituary for Flavio Cardenas, Sr.
Mr. Flavio Cardenas, Sr., longtime resident of Hereford, Texas, passed away Sunday, November 4 at the age of 70.

The family will hold private services for Mr. Cardenas.

Flavio was born January 12, 1948 to Andres Cardenas and Viviana Martinez in Bustamante, Nueva Leon, Mexico. He met his wife Maria Alba Enriquez when she was 14 years old in 1968, and the two were married on July 9th, 1973 in Bustamante.

Flavio finished high school and then attended the Colegio del Aire Mexico for two years of pilot training. After moving to Hereford in 1986, he made his career as a Feed Manager and retired from Champion Feeders of Hereford. He proudly remembered his years of military pilot training and in his spare time loved to discuss airplanes, military history, and to attend regional aviation shows.

Flavio is preceded in death by his parents, and by his brothers Simon and Guti Cardenas.

He is survived by his beloved wife Maria, his brother Jacinto Cardenas and wife San Juana Martinez of Mexico, and his three children Edson Cardenas of Hereford, Texas, Flavio Cardenas, Jr. and wife Tanja of Amarillo, Texas, and Viviana and husband Armando Zambrano of Hereford, Texas. He also leaves behind grandchildren Emily, Max, and Felix Cardenas of Amarillo, Texas, and Lyla and Lea Zambrano of Hereford, Texas, all of whom love and will miss him greatly.
Events