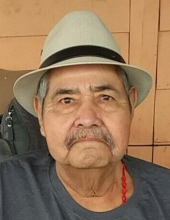 Obituary for Estevan Reza Martinez
Mr. Estevan Reza Martinez, longtime Hereford resident, passed away Sunday, October 7, 2018 at the age of 71.

Mr. Martinez was born on December 26, 1946 to Jacinto Martinez and Mariana Reza Martinez in San Benito, Texas. The family moved to Hereford in 1958 when Estevan was 12 years old. He married the "love of his life", Guadalupe Ramirez on October 14, 1962 and together had five sons and two daughters.

Estevan was a loving husband and father to his wife and family. He worked in the agricultural trucking industry all his life, and his faith and family were everything to him. He especially loved to take his children out hunting and 4-wheeling, making sure they had plenty of time playing and working outdoors. He had a big heart and was outgoing, known for his sense of humor and was always willing to lend a hand to others. He and Guadalupe were at the center of the family holiday celebrations and held big outdoor barbeque parties with live music and dancing.

Mr. Martinez was preceded in death by his parents, his loving wife Guadalupe, his infant son Oscar, his brothers Jose (Paz) , Cornelio, Juan, and Ediberto (Beto) Martinez, as well as by his sisters Ramona Ramirez and Natalia Morales.

He will be forever remembered by his brother Erasmo Martinez of Hereford, Texas, his children Manuel Martinez of Mission, Texas, Norma Linda and husband Emanuel Rivera of San Juan, Texas, Jesus (Chuy) and wife Chriselda (Chris) Martinez, Joe and wife Laurie Martinez, Rosie Valdez and husband Raul Gonzalez (Cano), all of Hereford, Texas, and Estevan Martinez, Jr. of San Antonio, Texas. He also leaves behind 25 grandchildren, 41 great-grandchildren, and numerous cousins, nieces, nephews, and friends all of whom love and miss him greatly.
Previous Events
Visitation
Hereford Heritage Funeral Home
411 E. 6th Street
Hereford, TX 79045
Rosary to be recited at 6:00 pm
Rosary/Vigil
Hereford Heritage Funeral Home
411 E. 6th Street
Hereford, TX 79045
Rosary to be recited at 6:00 pm
Mass of Christian Burial
San Jose Catholic Church
735 Brevard Street
Hereford, TX 79045
Burial to follow at St. Anthony's Cemetery. Fr. Molina will be the celebrant.
Cemetery Details
Location
St Anthony's Catholic Cemetery
402 Ranger St
Hereford, TX 79045