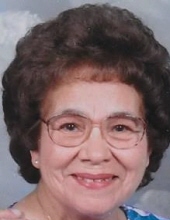 Obituary for Corelia Lucero
Mrs. Corelia Lucero, longtime resident of Hereford, passed away May 29th, 2018 at the age of 87.

There will be a Memorial Service Friday, June 1st at 2:00 pm in the Hereford Heritage Rose Chapel with reception to follow in the funeral home.

Corelia was born October 23rd, 1930 to Isabel Olivas-Gonzales and Reyes Gonzales in San Luis, Colorado. She met her husband Rumaldo Lucero Jr. in Crowley, Colorado and the two were married November 9th, 1949. They moved to Hereford in 1969 from Muleshoe, Texas. Mrs. Lucero was a devoted wife and mother to her husband and children and loved to babysit and teach children in Sunday School and Children's Church. In her spare time, she enjoyed crocheting, reading, and other arts and crafts.

Corelia is preceded in death by her parents, her husband Rumaldo, and by her brother Adelmo Gonzales, and her sisters Telesfora Valdez and Cecilia Reyes.

Those left to cherish her memory are her sister Virginia Gonzales and brother Louie Gonzales. Her daughter Helen Castillo and husband Arturo, and sons, Danny Lucero and wife Ruth, Jimmy Lucero and wife Lisa, and Andrew Lucero. Her sister-in-law Rose Ortiz, and brother-in-law Eddy Lucero and wife Margie also survive her. Her grandsons Arthur Castillo and wife Krysten, Jonathan Castillo and wife Jessica, Deron Lucero and wife Melissa, and her granddaughters Hanna Young and husband Chase, Claire Harrison, Augusta Owens and husband Tyler remain behind, as well as her eight great-grandchildren: Jacob and Jonah, Cameron, Conner, Kyson, and Kennon, and Reese and Ryddeck. In addition, numerous nieces and nephews, and a host of friends will miss her greatly.

Services are under the direction of Hereford Heritage Funeral Home.
Previous Events
Memorial Service
Hereford Heritage Funeral Home
411 E. 6th Street
Hereford, TX 79045
Reception to follow in the funeral home.