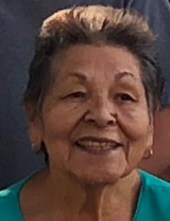 Obituary for Julia Raquel Rocha
Mrs. Julia Rocha, longtime Hereford resident went home to be with her Lord Friday, May 25, 2018.

Visitation Thursday, 5/31/2018 from 10am to 8pm at the Hereford Heritage Funeral Home Chapel. The Mass of Christian Burial Friday, 6/1/2018 at 10:00am San Jose Catholic Church, Hereford, TX. Burial to follow at West Park Cemetery, Hereford, TX. Fr. Jose R. Molina will be the celebrant.

Mrs. Rocha was born on June 19th, 1938 in San Benito, Texas to Cipriano Ramirez and Eva Torres. She married Miguel Hernandez Castro, the love of her life, in San Benito, Texas in 1956, and the couple moved to Hereford that year. She was a parishioner at San Jose Catholic Church and member of the Guadalupeñas, and a devoted wife and mother to her husband and children. Julia worked all her life in the family business and eventually opened her own restaurant. After the death of her husband Miguel, Julia married Javier Rocha who remained by her side for the last 34 years of her life. As an adult, she took the GED exam without prior study and passed with excellent grades to become a high school graduate. She retired in 2004 to enjoy her family and friends.


Julia is preceded in death by her parents, her husband Miguel, and by her brothers Manuel and Ramiro Ramirez.

Those left to cherish her memory are her husband Javier Rocha, her brother Jose Ramirez and spouse Ana of Wichita, Kansas, her sister Rosario Ramirez of Hereford, Texas, sister Rosa Maria Medrano and spouse Humberto of Amarillo, Texas, and brother Rene Ramirez and spouse Diana of Amarillo, Texas. Julia also leaves behind her children: Miguel Angel Castro, Inez Armando Castro, and spouse Delma, Ernest Alonzo Castro, Jose Ceasar Castro, all of Sterling City, Texas, and Alejandro Chapa and spouse Moises of Hereford, Texas. Mrs. Rocha also leaves behind 17 grandchildren and 34 great-grandchildren, several nieces and nephews, and a host of friends.
Previous Events
Visitation
Hereford Heritage Funeral Home
411 E. 6th Street
Hereford, TX 79045
Rosary to be recited at 6:30 pm
Mass of Christian Burial
San Jose Catholic Church
735 Brevard Street
Hereford, Texas 79045
Father Molina will be the celebrant.
Graveside
West Park Cemetery
West Park Ave.
Hereford,, TX 79045
Father Molina will be the celebrant.