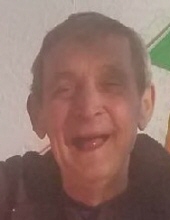 Obituary for Paul Gollihugh
Mr. Paul Gollihugh of Hereford, Texas, passed away Wednesday, May 16th at the age of 70.

Mr. Gollihugh was born on February 20th, 1948 to Albert and Pearl Gollihugh in Quail, Texas. He completed high school and worked in the Chemistry and Engineering department of a local chemical plant.

Paul enjoyed playing cards and dominoes and watching sports on television in his spare time.

Mr. Gollihugh leaves behind his brother Larry Gollihugh, his daughter Regina, and his four grandchildren: Glory, Rayna, Daniel, and Selah. He is preceded in death by his parents.