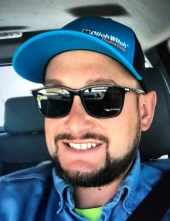 Obituary for Jason Patrick Gibbs
Jason Gibbs passed away Thursday, May 10th, at the age of 33.

Jason Patrick Gibbs was born on March 19, 1985 in South Haven, Michigan. As a child he enjoyed camping, hunting, swimming, and fishing with his family. Jason was an avid golfer and went to the state finals three years during high school. Jason graduated with honors from South Haven High School in 2004. Jason moved west in 2009 and ended up settling in Amarillo, Texas and meeting the love of his life, Linda. They met in 2009 and married in January 5, 2013. Jason lived life to the fullest and enjoyed riding his motorcycle with the love of his life. Their love blossomed into something that was out of the ordinary.

Many people admired his compassion towards life. He enjoyed listening to Bob Marley, The Beatles, Eagles, and Christian contemporary music, and eventually adapted to loving Tejano music because of his best friend. He was amazing on the grill and everyone knew that he made the best food. He had a passion for all his nieces and nephews and held them dear to his heart as his own. Everyone always asked for their Tio Jason or Uncle Jason. He loved spending time with them playing pool, basketball, golf, football, darts, and gave nothing but love and his attention.

He worked for Roberts Ditching as a lead supervisor and loved his crew members. He took pride in his job and it showed. He grew a bond with his crew members that was unique. Jason's crew members had respect for him and looked up to him. He taught them what he knew, and he loved it. If you knew Jason, you would say that he had a smile that was contagious. Spending time with his two dogs Jax and Sandy was one of the things he loved as well as his Corazon Linda. Jason loved his wife and was a devoted hard-working husband that provided love, compassion, and always made sure she was taken care of no matter what.

He impacted so many people's lives that he left behind a legacy and he will continue to live through family and friends. Jason is survived by his wife Linda Gibbs of Amarillo, Texas. Kelly & Sue Gibbs of Litchfield Park, Arizona, Ryan & Stephanie Gibbs Buckeye, Arizona nephews Robert, Reid, Graham, and niece Stella
.
Services are under the direction of Hereford Heritage Funeral Home.
Previous Events
Visitation
Hereford Heritage Funeral Home
411 E. 6th Street
Hereford, TX 79045
Visitation
Hereford Heritage Funeral Home
411 E. 6th Street
Hereford, TX 79045
Celebration of Life
Hereford Heritage Funeral Home
411 E. 6th Street
Hereford, TX 79045