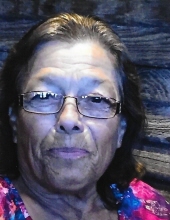 Obituary for Adela Contreras Naranjo
Mrs. Adela Contreras Naranjo, resident of Hereford, passed away Thursday, March 22, at the age of 65. The family will be holding a private memorial service.

7/30/1952 - 3/22/2018


"Strength, a powerful word that defined Adela Naranjo. She was a woman who was never promised a tomorrow, a woman who had to fight most of her life. At the age of 39 she began the war with dialysis, a war with the odds. She was always at battle with her own body. It didn't matter how and it looked, she always found a way to get up and keep fighting for her children and her family. even against the odds she managed to make it to the later years, meeting her grandchildren and even her great grandchildren.

Forgiveness was her biggest attribute. She loved everyone regardless of their faults and actions. it didn't matter if the skies were gray and faces were down, she always knew how to how to make you smile. She was everyone's best friend. As her time came near, she knew all the lives she'd impacted on her journey, but she also knew she was fighting a losing battle. She always knew the day would come and she would be ready to leave. Adela was a blessing to all our lives. Those who got to knew her, got to spend their life loving and cherishing every moment they had with her.

She may be gone from this world, but she will never leave our hearts or our lives. May you live the rest of eternity peacefully and pain free." -Ramiro Garza III

Adela's Family

Adela leaves behind her sisters: Elvira (deceased) and husband Hector Mendoza, Elida Trevino, Irene and husband Juan Camargo, Linda Contreras, and Angie and husband Ray Garza, and her six brothers: Lorenzo Contreras (deceased), Larry and wife Rosa Contreras, Johnny Contreras, Antonio and wife Alma Contreras, Joe Contreras, and Freddy and wife Linda Contreras.

She also leaves behind her children and grandchildren: Mathew and wife Betty Conde and their children Mathew II, Ninel, and Angel Conde, Adam Conde, Jr. and his children Corina Adela, Adam III, Eric, and Christopher Conde, and Cynthia Conde and her child Ramiro Garza and wife Skyla DelaRosa.

In addition, her 7 great-grandchildren love and will miss her greatly.