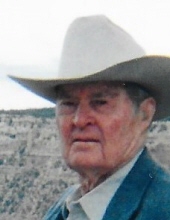 Obituary for William "Bill" Glen West
Mr. William "Bill" West, former resident of Hereford, passed away Monday, March 12, at the age of 87.

There will be a Memorial Service Friday, March 16th at 11 am at the Avenue Baptist Church of Hereford. Pastor Billy Joe Wall will be officiating.

Services are under the direction of Hereford Heritage Funeral Home.

Bill was born on April 20, 1930 to Lewis Edward and Eunie Verna Lesly West in Post, Texas. The family moved to Deaf Smith County, Texas in 1949 to farm their half-section of land northwest of Hereford. Bill married Dixie Rae Neal in Hereford on June 6, 1954 and he drove a Mayflower truck for a few years early in their marriage. The couple then settled in to farm grain crops and cattle, as well as a custom hay baler for many years.

Bill was a Mason and an active member of Avenue Baptist Church in Hereford and a dedicated family man to his wife and three daughters. He always wanted his daughters to be happy, to go to college, and be self-sufficient and each one went on to receive their college degrees. Later in life, he enjoyed attending dances and playing bridge and dominoes.

Mr. West is preceded in death by his parents and by his beloved wife Dixie Rae, his daughter Glena Sue Reel, and by his sisters Odie Lee Clayborn and Peggy Jo West and by his brother Samie West.

He is survived by his daughters Polly and husband Darrell Bryant of Henrietta, Texas, and Carla and husband Jimmy Finnigan of Monterey, Virginia. His sister Elsie Verna Lloyd of Hereford, Texas and his son-in-law John Reel of Marion, Texas also survive him.

Bill leaves behind four grandchildren: Jacklyn Bryant of El Paso, Texas and Matthew Bryant of Henrietta, Texas, and Dixie and Sammy Reel of Marion, Texas. Surviving him as well are several nieces and nephews, all of whom love and will miss him greatly.

The family requests that, in lieu of flowers, please send donations to the American Cancer Society, Alzheimer Association, or a charity of your choice.
Previous Events
Memorial Service
Avenue Baptist Church
130 N. 25 Mile Avenue
Hereford, Texas 79045
Pastor Billy Joe Wall will be officiating.