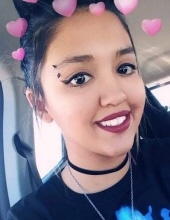 Obituary for Danielle Marie Galvan
Danielle Marie Galvan, longtime resident of Hereford, Texas passed away Tuesday, March 6th, 2018, at the age of 23.

There will be a Celebration of Life Service at 10:00 am, Monday, March 12th at the Church of the Nazarene. Pastor Ted Taylor will be officiating.

Danielle Marie was born to Rafael and Mary Galvan on February 20, 1995 in Amarillo, Texas. She lived with her family in Hereford, Texas and met and married her husband Juan Marmolejo on August 16, 2013 in Hereford. She later moved to Dallas to pursue her dream of becoming a fashion designer and model. She held a degree in photography and was working on her business degree while attending modelling school.

Danielle was a loving mother to her two daughters, who enjoyed photography and loved to sew clothing. Her family remembers her as a sweet and smiling young woman who was energetic and determined to achieve her goals for both herself and her family.

Ms. Galvan is preceded in death by her grandparents Jose and Lydia Sanchez.
Danielle leaves behind her husband Juan and her daughters Hazel Lorraine and Isabella Lezah Marmolejo, her grandparents Pascuala and Natividad Galvan, her parents Rafael and Mary Galvan, and her two brothers Emilio Galvan and partner Amber Gavina and Angel Jose Galvan, all of Hereford, Texas.


Services are under the direction of Hereford Heritage Funeral Home.
Previous Events
Celebration of Life
Nazarene Family Church
1410 La Plata
Hereford, Texas 79045
Pastor Ted Taylor will be officiating.