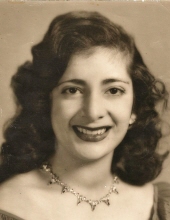 Obituary for Serapia Griego
Serapia Griego, longtime resident of Hereford, Texas passed away 2/21/2018 at the age of 79.

There will be a Visitation on Sunday, February 25th from 12:00 pm to 8:00 pm in the Rose Chapel of the Hereford Heritage Funeral Home. The Rosary will be recited at 6:00 pm.
The Mass of Christian Burial will be celebrated at San Jose Catholic Church by Fr. Molina on Monday, February 26th at 10:00 am. Burial will follow at West Park Cemetery.

Serapia Gonzales Griego was born September 3, 1938 in Abilene, Texas to Fernando and Pilar Gonzales. She is the second daughter of 11 children, still living, Margaret Gamez, Yolanda Guerrero, Raul Gonzales, Jose Gonzales, and Janie Gonzales. She moved with her family to Hereford, Texas where she met the love of her life, Jose Isaias Griego and they were married on July 11, 1955 at San Jose Mission in Hereford, Texas.

Jose and Sara had 7 children and made Hereford their home where she raised her family and helped him with farming and raising cattle. Sara was employed by John and Mary Jane Pitman, and later by Marsh and Debbie Pitman for a total of 10 years until the family left Hereford. Sara then owned and managed Forest Apartments for close to 10 years.

Sara enjoyed music and spending time with her family, especially her 21 grandchildren and 33 great-grandchildren. Sara passed peacefully surrounded by family and is now united with the Lord and her husband in heaven. Sara never had a bad thing to say about anyone. Sara was a beautiful person with a heart of grace who loved her family and spoiled her grandchildren and great-grandchildren and loved her dogs dearly. Sara was an angel to her sisters and will be remembered as a loving and generous woman.

Sara is preceded in death by her husband, parents, sisters, Gloria Arsola, Lorina Estrada and Catherine Celeya, Maria Gonzales, and one brother, Fernando Gonzales Jr., and several other family members.

Sara leaves behind her children: Nancy Griego of Sugar Creek, Missouri, Diana and Robert Cortez of Albuquerque, New Mexico, Anna Lisa and Marcial Limas of Sedalia, Missouri, Judy Sermino of Dallas, Texas, Mary and Moises Salazar of Lewisville,Texas, Tony and Loida Griego of Las Vegas, Nevada, Rebecca and Gilles Bussieres of Phoenix, Arizona, and Anita and Winfred Schloesser of Worms, Germany.
Previous Events
Visitation
Hereford Heritage Funeral Home
411 E. 6th Street
Hereford, TX 79045
Rosary at 6:00 pm
Rosary/Vigil
Hereford Heritage Funeral Home
411 E. 6th Street
Hereford, TX 79045
Celebration of Life
San Jose Catholic Church
735 Brevard Street
Hereford, Texas 79045
Fr. Molina is the Celebrant. Burial to follow at West Park Cemetery.
Graveside
West Park Cemetery
West Park Ave.
Hereford,, TX 79045