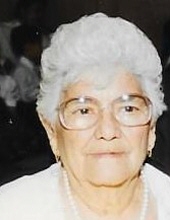 Obituary for Francisca L Perez
January 23, 2018

OBITUARY—Francisca Perez

Mrs. Francisca Perez, longtime resident of Hereford, passed away January 21, 2018 at the age of 94.

There will be a Visitation for Mrs. Perez on Wednesday, January 24th from 10 am to 8 pm in the Hereford Heritage Funeral Home Rose Chapel. A rosary will be recited at 6:30pm.

There will be a Mass of Christian Burial on Thursday, January 25th at 11:00 am at Iglesia de San Jose. Fr. Father Jose Ramon Molina will be the celebrant. Burial will follow the Mass at St. Anthony's Catholic Cemetery.

Francisca was born in Tamaulipas, Mexico to Petra Barrera and Juan Longoria on May 16th, 1923. She married her lifelong friend and soulmate Agustin Perez on July 29, 1946 in Edinburg, Texas. The two settled in Hereford, Texas in 1959.

Francisca loved to cook and feed anyone who came by to visit with her famous, delicious tortillas. She was the happiest when family and friends would visit, and she made sure no one would leave her home without a blessing. Most of all, she loved her dog Rocket/Chiquito. She was a firm believer in her Catholic religion, and her faith in God sustained her always. She loved her family dearly and will be missed by all who love her.

Mrs. Perez is preceded in death by her husband, Agustin, and by her parents and her nine brothers and two sisters. She also is preceded by her daughter Gloria Perez, and by her two grandsons Oscar Perez and Felipe "Flipper" J. Gonzalez.

Francisca is survived by her four daughters: Aurora Jackson and husband Juan of Denton, Texas, Dora Nelia Gonzalez (her late husband Felipe) of McAllen, Texas, Lisa Balderaz (her late husband Adam M.) of Hereford, Texas, and Patsy Juarez and husband Gilbert of Hereford, Texas


Also surviving her are 13 grandchildren and 13 great-grandchildren In addition, she leaves behind numerous nieces and nephews, all of whom love and will miss her greatly.

Services are under the direction of Hereford Heritage Funeral Home.
Previous Events
Visitation
Hereford Heritage Funeral Home
411 E. 6th Street
Hereford, TX 79045
Rosary to begin at 6:30 pm
Mass of Christian Burial
San Jose Catholic Church
735 Brevard Street
Hereford, Texas 79045
Graveside
St Anthony's Catholic Cemetery
402 Ranger St
Hereford, TX 79045