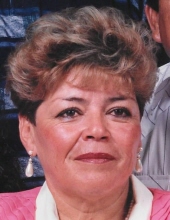 Obituary for Diane A. Delgado
Diane was born on February 3, 1949, in O'Donnell, Texas. She was raised by her father Bill Amaro and her grandmother Abigail B. Castillo. She passed away Monday, January 15, 2018.

There will be a Visitation for Mrs. Delgado on Tuesday, January 16, from 10:00 am to 8:00 pm in the Hereford Heritage Funeral Home Rose Chapel. The Rosary will be recited at 7:00 pm

There will be a Mass of Christian Burial on Wednesday, January 17 at 10:00 am at San Jose Catholic Church. Fr. Father Jose Ramon Molina will be the celebrant. Burial will follow at St. Anthony's Cemetery.

Services are under the direction of Hereford Heritage Funeral Home.

Mrs. Delgado is a high school graduate and she met her husband of 49 years Pascual Delgado in Hereford, Texas in 1968. They were married December 3rd of that same year. She first worked as a bookkeeper for the area's onion farms. Later, she ran the family farm and could always be found working in the fields and caring for the animals. Her family remembers her as a hardworking woman dedicated to her family.

Diane is preceded in death by her father and grandmother, her brother Bill Amaro Jr., and by her great-grandson Jose Gonzalez Jr.

She is survived by her husband Pascual Delgado of Amarillo, Texas, and by her son Johnny and wife Adriana Delgado and their children Samantha, Morelia, Andrea, and Aalyah Delgado and Kevin Guevara of Schuelenburg, Texas, as well as by her two daughters: Criselda Delgado and husband Joe Dykes and their children Nathaniel and Kaelen "Blasito" Dykes of Sulphur Springs, Texas and by Erica Delgado and husband Jose Gonzalez and their children Richard Sierra III, Abigail Sierra, and Xayvion, Zyler, and Azariah Gonzalez of Amarillo, Texas. Diane's great-grandson Ryann Jacob Dykes also survives her.

In addition, she leaves behind numerous nieces and nephews, all of whom love and will miss her greatly.
Previous Events
Visitation
Hereford Heritage Funeral Home
411 E. 6th Street
Hereford, TX 79045
Rosary to begin at 7pm
Mass of Christian Burial
San Jose Catholic Church
735 Brevard Street
Hereford, Texas 79045
Fr. Jose Ramon Molina celebrant.
Graveside
St Anthony's Catholic Cemetery
402 Ranger St
Hereford, TX 79045
Fr. Jose Ramon Molina celebrant.