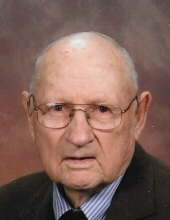 Obituary for Elmer F. Reinart
Mr. Elmer F. Reinart, of Hereford, Texas, passed away today, Jan.10, at the age of 98.

January 11, 2018

OBITUARY—Elmer Fridolin Reinart

Elmer was born June 7, 1919, to Joseph Henry and Mary Agnes Lueb Reinart in Gainesville, Texas.

There will be a Visitation for Mr. Reinart on Sunday, January 14, from 3:00 pm to 6:00 pm in the Hereford Heritage Funeral Home Rose Chapel. A Celebration of Life service will be held immediately afterwards on Sunday, January 14 from 6:00 pm to 8:30 pm., also in the Rose Chapel.

There will be a Mass of Christian Burial on Monday, January 15 at 10:00 am at St. Anthony's Catholic Church. Fr. Tony Neusch will be the celebrant.

Services are under the direction of Hereford Heritage Funeral Home.

Elmer is preceded in death by his parents, his brothers Arhart, Esidore, and Alfred Reinart, his sister Armella Weick, and by his infant son Sidney Eugene Reinart. His grandson Corey Joseph Reinart also precedes him.

Elmer moved to Hereford in 1924. He attained the rank of Sergeant while serving in the U. S. Army Air Corp during World War II as an airplane mechanic between 1942 and 1946. He met Irene Artho, who became his wife on May 27, 1947, in Umbarger, Texas. He was a hardworking family man and spent over 40 years working the family farm. He was also a member of the Kiwanis Club, the Golden K, and a 4th Degree Knight of Columbus. In addition, he was a lifelong parishioner of St. Anthony's Catholic Church in Hereford, Texas, and an active member of the Hereford Senior Center.

He is survived by his wife Irene of Hereford, Texas, and by his sister Helen Batenhorst of Canyon, Texas and his brother Leander and wife Clara Reinart of Hereford, Texas. Also surviving him are his two sons Wayne and wife Gaylene Reinart and Roy and wife Debra Reinart of Hereford, Texas, and by his five daughters Janie and husband Mark Banner of Hereford, Texas, Paulette Borgognoni of Euless, Texas, Julie and husband Jamie French of Arlington, Texas, Melinda and husband Michael Sullivan of Coppell, Texas, and Rhonda and husband Butch Bauer of Duluth, Georgia.

Surviving him as well are 10 grandsons, and 11 granddaughters, 10 great-grandsons and 10 great-granddaughters. In addition, he leaves behind numerous nieces and nephews, all of whom love and will miss him greatly.

The family requests that memorial contributions be made to King's Manor or St. Anthony Parish/School.
Previous Events
Visitation
Hereford Heritage Funeral Home
411 E. 6th Street
Hereford, TX 79045
Celebration of Life
Hereford Heritage Funeral Home
411 E. 6th Street
Hereford, TX 79045
Mass of Christian Burial
St. Anthony's Catholic Church
115 N 25 Mile Ave
Hereford, Texas 79045
Burial to follow at Restlawn Cemetery of Hereford, TX
Graveside
Restlawn Cemetery
3985 US-385
Hereford, TX 79045