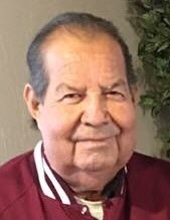 Obituary for Jesus Manuel Figueroa
Jesus Manuel Figueroa, of Hereford, passed away today at the age of 71.

Jesus was born March 29, 1946, in Chihuahua, Chihuahua, Mexico to Alfredo M. Figueroa of Chihuahua, Mexico and Maria Hernandez Figueroa of Midland, Texas.

Jesus Manuel is preceded in death by his parents, his brother Jose Armando Figueroa, and his sisters Eduvijez Figueroa and Estefana Ramirez.

Jesus moved to Hereford in 1961 and met his future wife, Martha Trevizo Figueroa. The two were married on December 31, 1983, in Hereford. He attended Amarillo College and worked as an assistant Chemist for Holly Sugar, and later as a foreman for Far Better Foods. He was a hardworking family man; he and his family were parishioners at San Jose Church. In his spare time, he was always studying and learning something new. He was a friend to all and especially enjoyed his time with his family.

He is survived by his brothers Alfredo Figueroa and Rick Mendoza Figueroa, as well as by his sisters Bertha Trevino, Mary Shows, Hortencia Estrada, and Rosa Martinez.

Jesus also leaves behind three children: Maggie Maldonado and her three children, Jesus Mariscal and his three children, and Quirino Mariscal and his five children. In addition, his four great-grandchildren and numerous nieces and nephews will miss him greatly.
Previous Events
Rosary/Vigil
Hereford Heritage Funeral Home
411 E. 6th Street
Hereford, TX 79045
Rosary to begin at 7:00 PM
Rosary/Vigil
Hereford Heritage Funeral Home
411 E. 6th Street
Hereford, TX 79045
Rosary to begin at 7:00 PM
Visitation
Hereford Heritage Funeral Home
411 E. 6th Street
Hereford, TX 79045
Mass of Christian Burial
San Jose Catholic Church
735 Brevard Street
Hereford, Texas 79045
Father Molina will be the Celebrant
Graveside
St Anthony's Catholic Cemetery
402 Ranger St
Hereford, TX 79045