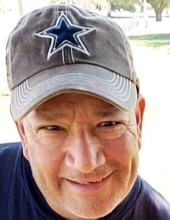 Obituary for Jose Medina
Jose Medina, resident of Friona, passed away November 2, 2018 at the age of 53.

Mr. Medina was born on November 21st, 1964 to Ismael Medina and Oliva Tena in Morelia, Michoacan, Mexico.

Jose met his wife Alma Canelo in Corpus Christi, Texas in 1988 and the couple moved to Friona recently this year. He worked for Tyson Fresh Meats and made his living in the processing industry. He was a loving husband and father to Alma and his step-children. In his spare time, he loved to garden flowers and vegetables and was a fan of the Dallas Cowboys.

Mr. Medina is preceded in death by his mother Oliva Tena and his brother Adrian Medina. He leaves behind his beloved wife Alma, his step children Rosemary Canelo and husband Joel Garcia and Steven Canelo and wife Silvia Salazar, all of Corpus Christi, Texas, and son Juan Jose Canelo and wife Dolores Rodriguez of Orange Grove, Texas. His brothers and sisters Bertin Medina, Silvino Medina, Jaime Medina, Yolanda Hernandez, Maria Galvan, Martin Medina, and Juan Medina also survive him. Jose leaves behind 13 grandchildren, 4 great- grandchildren, numerous nieces, nephews, cousins, and friends all of whom love and will miss him greatly.
Events