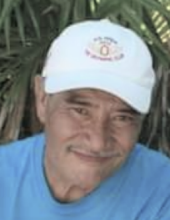 Obituary for Jaime Iñiguez Escareño
Mr. Jaime Iñiguez Escareño, longtime resident of Los Angeles, passed away Friday, September 28, at the age of 61.

Jaime Iñiguez tenía dos hijas: Maria del Rocio Iñiguez de Avalos
y esposo Jose Antonio Avalos de Hereford, y Miriam Iñiguez con esposo Daniel Rivera de La Ciudad de Mexico. Jaime tambien tuvo seis nietos: Daniel Rivera Iñiguez, Jose Antionio Avalos Iñiguez, Alexis Rivera Iñiguez, Yared Avalos Iñiguez, Yadhira Avalos Iñiguez, y Angel Rivera Iñiguez.

Nació 12/28/56, en La Ciudad de Mexico, Mexico, y era el hijo de
German Iñiguez y Esperanza Escareño. El dejo cuarto hermanos y se
renuion con dos: Francisca Iñiguez, Carlos Iñiguez. Le sobreviven Jorge Iñiguez, Cesar Iñiguez, Olga Iñiguez, y Silvia Iñiguez.

Jaime vivio la mayoria de su vida en Los Angles,California.
En su tiempo libre,le gustaba leer, caminar afuera, y estar con los niños y perros.
Previous Events
Visitation
Hereford Heritage Funeral Home
411 E. 6th Street
Hereford, TX 79045
Rosary to be recited at 6:00 pm
Mass of Christian Burial
Iglesia de San Jose
735 Brevard St
Hereford, TX 79045
Fr. Ramon Molina will be the celebrant.