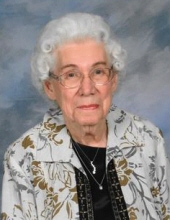 Obituary for Velma Ruth King
Velma Ruth King 1922 - 2017

Velma Ruth King, 94, a longtime resident of Hereford, was called home to her Lord on Monday, May 29, 2017.

A visitation for Velma Ruth is scheduled for Sunday, June 4, from 2pm to 8 pm. A Celebration of Life Service will be held on Monday, June 5, at 2pm in the Hereford Heritage Funeral Home Rose Chapel of Memories in Hereford. Texas.

Velma Ruth was born on September 29, 1922, to William Greenlee Williams and Cora Addie Conner Williams in O'Donnell, Texas. She married Jacob Alva King, Jr. in Post, Texas in 1941 and became a resident of Hereford, Texas in 1953. She was a longstanding member of the American Legion-Hereford Post 192. Velma Ruth was a volunteer with Red Cross as part of her service to the community. She was also a member of the First United Methodist Church of Hereford, Texas as well as a charter member of the Forrest Hill United Methodist Church of Amarillo, Texas. Velma Ruth was a valuable employee of Wackers' Variety Store, Lamesa Cleaners, Montgomery Ward, Ben Franklin's, and J.C. Penny during her career.

Velma Ruth was preceded in death by her parents, William and Cora Williams, her husband, Jacob Alva King, Jr., her brother Jessie Williams and his wife Ola, her brother Allen Williams and his wife Alice, and her brother Conner Williams and his wife Juandine. She is also preceded by her sisters, Mattie Ayres, Maudie Blair, and Addie James and her husband Virgil. Her grandson Clayton Jacob Johnson, her great-great-grandson Hunter Roye, as well as her father- and mother-in-law Jacob Alva King, Sr. and Alma Pearl King, and her daughter-in-law Barbara Hines King have all preceded her in death as well.

Survivors include her children Bobby King and his wife Marilyn of Wasilla, Alaska, Gay Sadler and her husband David of Sunnyside, Texas, Brenda Johnson and her husband Steve of Amarillo, Texas, and Karl King of Hereford, Texas. She is also survived by grandson Jordan Johnson and his wife Caitlyn of Canyon, Texas, as well as her granddaughters Melody and her husband Walter Roye of Hobbs, New Mexico, Karla Sadler, of Abilene, Texas, Kristi Medford and her husband Bobby, of Hartley, Texas, and Bethany Johnson, of Amarillo, Texas.

Velma Ruth's surviving great-grandchildren include Shaina Roye and her son Jericho of Hobbs, NM, Samuel and Bekah Roye and their sons Emery, Maddox, and Asher, Spenser Roye, Shyann Roye, Shaeli Roye, all of Hobbs, NM, and Ashton Medford and Beckett Medford, both of Abilene, TX.

Dear family friends, Cynthia Shattles, of Perryton, TX, and Verba Sadler survive her as well. Survivors also include numerous nieces and nephews, all of whom loved her dearly and experienced her loving care, first hand.
Previous Events
Visitation
Hereford Heritage Funeral Home
411 E. 6th Street
Hereford, TX 79045
Memorial Service
Hereford Heritage Funeral Home
411 E. 6th Street
Hereford, TX 79045