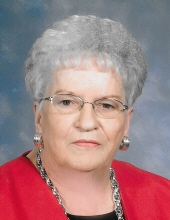 Obituary for Opal Blakely
Opal May Blakely, 84, of Hereford, Texas, passed away peacefully on Wednesday, September 6, 2017.

A Rosary for Opal is scheduled for Thursday, September 7, at 6:30 pm in the Hereford Heritage Funeral Home Rose Chapel with visitation to follow until 8:00 pm. A Mass of Christian Burial will be held Friday, September 8, at 10:00 am, with burial to follow at Rest Lawn Cemetery. Father Anthony Neusch officiating.

Opal was born September 7, 1932 to Oliver McCormick and Altie Roberts McCormick in Dunn, TX. She grew up helping her parents around their cotton farm near Dunn. Upon graduation from high school, she went to work in Roscoe, TX as a Licensed Vocational Nurse.

Opal was married to R. L. Blakely at Dunn Baptist Church, Dunn, TX , on June 30, 1950. They moved to Snyder, TX, where she continued as a nurse and later as a secretary for the Snyder Chamber of Commerce. Opal and R.L. had two children, Ricky, born in 1951 in Snyder, TX , and, after the couple moved to Odessa, TX, Lisa was born in 1961. They moved to Amarillo in 1963 to further R.L.'s career with Exxon. They moved to Hereford, TX where R.L. received an opportunity to run his own Exxon wholesale Distributorship. Opal helped with the bookkeeping and greeted the customers as they came to the office. They continued running their business until they retired in 1989.

Opal was a loving mother, grandmother, and great-grandmother. She cared very much for her kids and grandkids. She was also a very generous and kind person who was always willing to help those who were less fortunate. In retirement, she took a job at Thriftway/Lowe's and it was not uncommon for her to spend more than her paycheck to pay for lunch for her co-workers.

Opal was preceded in death by her husband, R.L. Blakely, and by her son Ricky Blakely. Her parents and ten siblings also precede her.

She is survived by her daughter, Lisa Artho and husband Dennis of Hereford, TX, her daughter-in-law Hope Blakely of Gig Harbor, WA, as well as by her grandchildren Alexandra Blakely Cronin and husband Robert of Augusta, GA, Kyle Artho and wife Keely of Bushland, TX, Ryan Artho of Lubbock, TX, Russell Artho and wife Mary of Amarillo, TX, and Jill Artho Broom and husband Devon of Amarillo, TX. Opal is also survived by six great-grandchildren. She will be missed as well by her many friends, nieces, and nephews.

Opal and her family request memorials be directed to the St. Anthony's School Endowment Fund.
Previous Events
Rosary/Vigil
Hereford Heritage Funeral Home
411 E. 6th Street
Hereford, TX 79045
Visitation to follow until 8:00 PM.
Mass of Christian Burial
St. Anthony's Catholic Church
115 N 25 Mile Ave
Hereford, Texas 79045
Father Anthony Neusch celebrant. Burial to follow at Rest Lawn Cemetery.
Cemetery Details
Location
Restlawn Cemetery
3985 US-385
Hereford, TX 79045