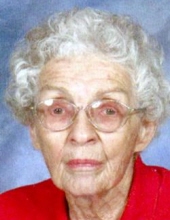 Obituary for Naomi Elizabeth Long Brisendine
The golden streets in Paradise are a lot cleaner since Saturday morning when a new soul went to work in Heaven.

Naomi Elizabeth Long Brisendine took the journey to Glory after 92 blessed years on Earth. She was born January 23, 1925 to Sammy Leonard Paul Long and Lensie Craver Long in Midway, North Carolina where she attended and graduated high school. She died May 27, 2017 in Brownfield.

Naomi was a child of the Depression who ran her house on a tight budget using her resources in the most efficient way. While she was frugal with things, she was liberal with her love for her family. Naomi reveled in work, she was an excellent Southern cook and was known for her spotless house. She enjoyed maintaining her yard and flower beds, even sweeping her front sidewalk on 25 Mile Avenue every day. She was a prolific reader. Naomi was a years-long member of a Home Demonstration Club, the Hereford Hospital Auxiliary and the First United Methodist Church.

More especially, she took care of her family in the best of times and the worst. She used her abundance of energy to care for the love of her life, her husband Thomas Edward (Ed) Brisendine, whom she married August 27, 1945. Ed preceded her in death June 8, 1994. Their's was a war time romance and love at first sight. They corresponded during the war, as she followed his advance across Europe in World War II. Upon his return, they married in North Carolina and he brought his new bride to Amarillo. It was a life transition from woods and hills to the high plains of Texas. While in Amarillo they had two children. They then moved to Hereford where they had two more children and made their lifelong home. In 2014, she moved to Brownfield where she lived at Cottage Village Assisted Living Center.

Naomi taught her children how to deal with the vagaries of life, the ups and downs. She was the definition of honesty, integrity, patriotism and her belief in the Good Lord. These traits she not only shared with her family but demanded of them.

She is survived by 3 sons: Lynn and Linda Brisendine of Brownfield, Mickey and Michelle Brisendine of Hereford, and Trent and Jodi Brisendine of Lubbock. She is preceded in death by her husband Thomas Edward Brisendine and daughter Diann Burns of Dallas, Georgia. Naomi is also survived by a sister Betty Jean and husband Jimmy Hall of Welcome, NC, brother-in-law C.L. Gordon of Arcadia, NC. Others to greet her at Heaven's gate will be her brother Wilburn Long and his wife Doris, her sisters Edna Mae Gordon, Vada and her husband Claude Bost, step-brother Coy Swicegood , a young sister Geneva Long and great grandson Hayden Stephens.

Naomi was the matriarch of a large family including 9 grandchildren, three step-grandchildren and 21 great-grandchildren. Her grandchildren include Becky and Brian Stephens of Lubbock, Barbie and Alan Taylor of Lubbock, Brian and Susan Brisendine of Brownfield, Gina and Joel Turner of Haslet TX, Dana and Richard Noon of Roanoke TX , Wendy and Andrew Neighbors of Canyon, Michael Burns of Las Vegas, Matthew Burns and Michelle Burns of Georgia. Also Shelly Lusk of Kentucky, Lindsey Wood of Lubbock, and Savannah and Jonathan Doerzbacher of Austin.
Previous Events
Celebration of Life
Hereford Heritage Funeral Home
411 E. 6th Street
Hereford, TX 79045