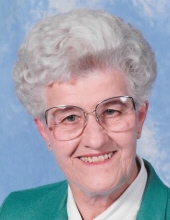 Obituary for Elfrieda C. Reinart
Elfrieda C. Reinart, 89, of Hereford, Texas, passed away peacefully on Thursday, August 31, 2017.

A Rosary for Elfrieda is scheduled for Sunday evening, September 3, at 6:30 pm in the Hereford Heritage Rose Chapel. A Mass of Christian Burial will be held Monday, September 4, at 10:00 am at St. Anthony's Catholic Church with burial to follow at Restlawn Cemetery in Hereford, TX.
Elfrieda was born March 5, 1928, to John G. Batenhorst and Mary Knust Batenhorst in Umbarger, Texas. Elfrieda was married to Esidor (Esy) Nicholas Reinart in Umbarger, TX, on November 4, 1947.

Elfrieda was a true matriarch; her life revolved around family all the time. She worked diligently as the farm's grain truck driver, and was an avid quilter and crochet artist, making sure every grandchild had a quilt from her hand. She also enjoyed dancing, card games, especially the family favorite "Doppelkopf", and all remember her for her cooking and baking. Her Famous Earthquake Cake is still a delicious memory.

Elfrieda was preceded in death by her parents, John G. Batenhorst and Mary Knust Batenhorst, and by her brothers Raymond, Sylvester, and Leonard Batenhorst, as well as by two sisters, Marie Vorwald and Adalla Friemel.

She is survived by her sons, Dale L. Reinart and wife Karen of Yukon, OK, Galen A. Reinart and wife Mary of Canyon, TX, and Dean E. Reinart and wife Carol of Hereford, TX. Two sisters, Laverna Henscheid of Springfield, MO and Marcella Brandt of Amarillo, TX also survive her.

Elfrieda leaves behind grandchildren and great-grandchildren: Cari and Phil Matthews of Yukon, OK and their sons Carson and Luke, Susan and Paul Bowyer of Yukon, OK and their sons Zachary and Dylan, Robin Reinart of Midwest City, OK and son Jax, Mandi and Roger Brorman of Vega, TX and children Conner, Braden, and Blakely, Gary and Sara Reinart of Canyon, TX and children Bree, Mason, and Grant, Mark and Jill Reinart of Amarillo, TX and son Miles, Kyle and Sage Reinart of Vega, TX, Greg and Christy Reinart of Hereford, TX and her children Faith and Ezra, Kent and Kali Reinart of Lubbock, TX, Brad and Kristen Reinart of Frisco, TX and their sons Jackson and Ben, and Glen Reinart of Lubbock, TX.

She also leaves behind numerous nieces and nephews, all of whom will miss her greatly.

Services are under the direction of Hereford Heritage Funeral Home.
Previous Events
Rosary/Vigil
Hereford Heritage Funeral Home
411 E. 6th Street
Hereford, TX 79045
Father Anthony Neusch
Mass of Christian Burial
St. Anthony's Catholic Church
115 N 25 Mile Ave
Hereford, Texas 79045
Celebrant Father Anthony Neusch
Cemetery Details
Location
Restlawn Cemetery
3985 US-385
Hereford, TX 79045