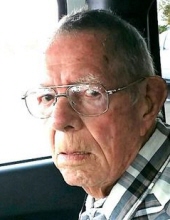 Obituary for David Marion Hix
David M. Hix, 83, of Hereford, Texas, went to be with his Lord on Tuesday, August 8, 2017.

A Celebration of Life Service will be held at 11:AM, Saturday, August 12 at the Westway Baptist Church in Hereford, TX with Reverend Ken Varner officiating.

David was born November 9, 1933, to Thomas M. Hix and Elizabeth L. Eldridge Hix in Clovis, New Mexico. David was a hardworking man with a big heart. He worked for 22 years at the Texas Highway Department in his position as a Sign Man and enjoyed his job and his co-workers. He was a dedicated fisherman and loved to work with his hands, creating paintings and welded sculptures in his free time. He had a great love for children and was always ready for a trip to the Dairy Queen with them.

David was preceded in death by his father, Thomas M. Hix, his mother, Elizabeth L. Hix, and his grandparents. He is also preceded by his brother, Donald R. Hix, and sister, Betsy LaRue Blackwell.

He is survived by his daughter, Becky Martinez and her husband Jesse of Hereford, TX, and two sons, John Hix of Idalou, TX, and Mark and his wife Belinda Hix, of Lubbock, TX. His two step-daughters, Judy Roberts and Maxine Hix, both of San Antonio, TX, and two brothers, Jerry Hix, and John Hix survive him as well.

His grandchildren include Mary Moritz and her husband Scott of Mississippi, Tonya Brown and friend John Kimmel of Idalou, TX, David Alton Hix and his wife Summer Hix, of Beaumont, TX, James Martinez and his wife Delia Martinez of Hereford, TX, Jim Smith, and Garrett Hall of Lubbock, TX. David's great grandchildren include Jason, Jon, and Zachary Chisum of Amarillo, TX, Rhett and Cole Brown of Idalou, TX, Zane and Ryder Hix of Beaumont, TX, and Nicolas, Jasmine, and Alyssa Martinez of Hereford, TX.

He will be greatly missed by his family including his numerous nieces and nephews .
Previous Events
Celebration of Life
The Genesis Church
3885 US Hwy 385
Hereford, TX 79045
Reverend Ken Varner officiating.