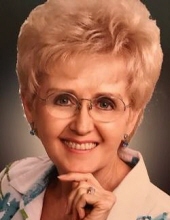 Obituary for Betty Jane Douglas
Betty Jane Barnett Douglas, who was born on October 11, 1942 in Friona, Texas to Fern William and Francis Mildred Barnett, passed away June 12, 2017 in McKinney, Texas. Betty's mission in life was to raise strong and loving children. Mission accomplished. She not only accomplished that mission but was a central figure in a large, loving, supportive family.

Betty is survived by her brother James Wesley Barnett and his wife Doris of Friona, Texas and her sister Judy Ann Davis and her husband Mike of Irving, Texas, and an expansive but closely knit family.

Betty was a loving mother to her three children, Jay Kirk Douglas (Lexington, Kentucky), Jan Douglas Holmes (McKinney, Texas) and Jon Mark Douglas (Friona, Texas) and a supportive, fun grandmother and step grandmother to her nine grandchildren, Justin Douglas (Marine Corps, Camp Pendleton, California) and Ashley Hunt Robinson (Lubbock, Texas) [children of Jay and Kelley Douglas], Breanna Flake (Dallas, Texas), Bailee Flake (Baylor University), Brandon Holmes (New York City) and Maia Holmes (Denver, Colorado) [children of Jan and Ron Holmes], and Gavin Douglas (US Army, Ft. Hood, Texas), Brandon Douglas and Gabbi Douglas (Friona, Texas) [children of Jon and Rachel Douglas], and great grandmother to Taygan Turner (Lubbock, Texas) [daughter of Ashley Robinson]. She was also an adoring Aunt to seven nephews and nieces and their 15 children: Brian Davis and his wife Reagan and their two children (Flower Mound, Texas); Phillip Davis (Irving, Texas); Dr. Chris Barnett and wife Renee and their two children (San Angelo, Texas); Dr. Kyle Barnett and his wife Mellissa and their 3 children (Salt Lake City, Utah); Kim Barnett Marx and her husband Scott (PA) and their 3 children (Aubrey, Texas); Rick Barnett and his wife Erin and their 2 children; and David Barnett and his wife Heather and their three children (Little Rock, Arkansas). Betty is now rejoicing in Heaven, free of the walker, wheelchair and discomfort she suffered the last year of her life.

Visitation will be held Sunday, June 18, 2017, 5:00 – 7:00 PM at Hereford Heritage Funeral Home, 411 E. 6th Street, Hereford, Texas 79045. A Memorial service will be held Monday, June 19, 2017, 10:00 AM at Hereford Heritage Funeral Home, followed by a grave side ceremony.
Previous Events
Visitation
Hereford Heritage Funeral Home
411 E. 6th Street
Hereford, TX 79045
Funeral Service
Hereford Heritage Funeral Home
411 E. 6th Street
Hereford, TX 79045